Interview With Kunlé Adeyemi at the Chicago Architecture Biennial
Interview with kunlé adeyemi at the chicago architecture biennial
Photo by reze bonna
All images courtesy of NLÉ
Born and raised in nigeria, kunlé adeyemi is an architect, urbanist and creative researcher who founded the amsterdam-based practice NLÉ after almost a decade of working closely with rem koolhaas at OMA. adeyemi states that the overarching aim of his practice is to 'bridge critical gaps in infrastructure and urban development by creating coherent networks and global exchanges that work for people'.
the architect's recent work includes 'makoko floating school', an innovative, prototype structure located on the lagoon heart of nigeria's largest city, lagos. this acclaimed project is part of an extensive research undertaking – 'african water cities'. extending this line of questioning, NLÉ is currently developing a number of urban and architectural projects in africa; one of which is the chicoco radio media center; an amphibious building in port harcourt in nigeria.
at the inaugural chicago architecture biennial, designboom spoke with kunlé adeyemi who was presenting his work as part of SAIC's (school of the art institute of chicago) visiting architecture program. read his thoughts below as he talks about some of his most important projects.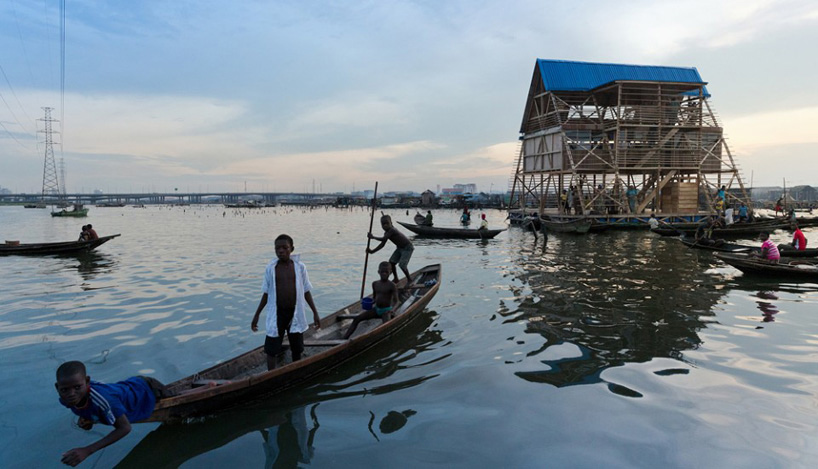 makoko floating school, lagos, nigeria
see more of the project on designboom here
designboom: how do you approach a project with an unusual brief like the chicoco radio station?
kunlé adeyemi: we had to consider what kind of spaces local people would need. for example, they didn't want a swimming pool, they wanted a radio station. music is a large part of their culture, and it is their place to have a voice and communicate. we looked at the program, and developed it with them. radio training has already begun! the regeneration plan has not been completely developed, and we're looking to work with the government in providing that, and also other ideas for how you can develop architectural structures on water. not necessarily in form, but also in ideology.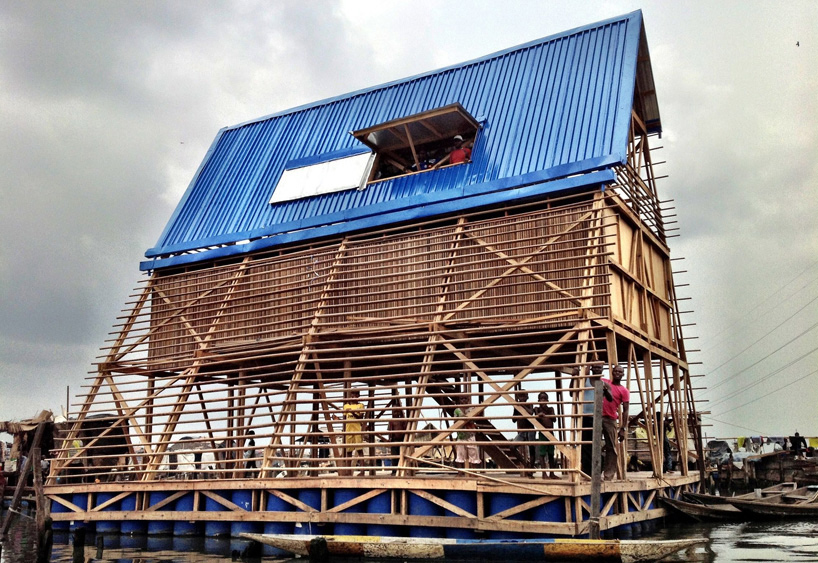 makoko floating school, lagos, nigeria
DB: can you talk about some of the radio station's key design aspects?
KA: part of the scheme was to build a 40-meter mast, and we decided to organize the program in a linear way to match this relationship between land and water. since we were going to build a mast anyway, we extended it to use it as the harness to mobilize the structure and to elevate it above the street — creating a public space underneath. the mast became a structure that would hold a very lightweight timber frame, creating a platform that would react to changing conditions. there is also a terrace that can host performances, markets, or cinema screenings.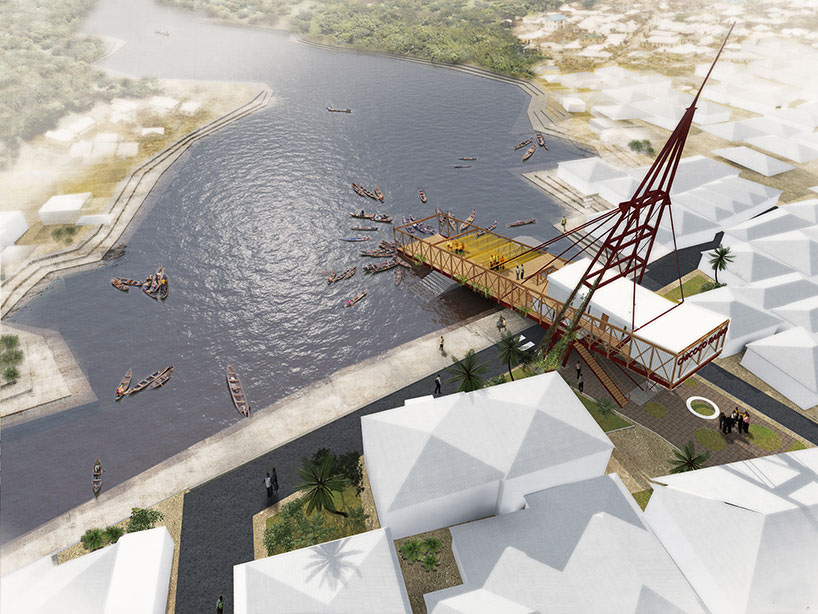 chicoco radio, port hartcourt, nigeria
see more of the project on designboom here
DB: here in chicago you are presenting your 'rock' kiosk. can you tell us how the project came about?
KA: it was an opportunity that we received from the chicago architecture biennial to be a part of this wonderful city. chicago is a particularly interesting city for me in terms of its architecture. the fact that it is a city that has developed modern architecture, it is like an architecture heaven for the most part! the industry of prefabrication and all kinds of technologies for building is actually quite advanced, so we're not quite talking about makoko or chicoco here. yet, for me it is an opportunity to think about similar issues and principles.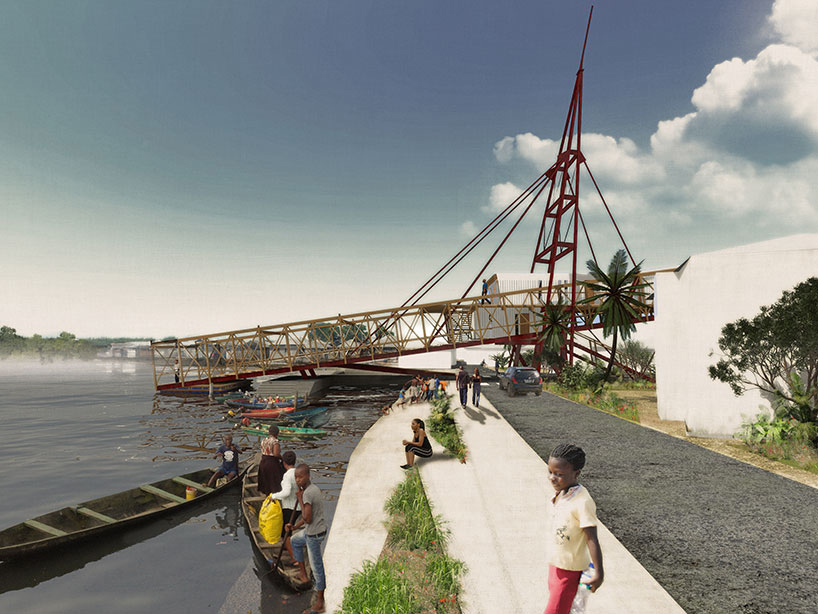 chicoco radio, port hartcourt, nigeria
DB: where will the pavilion be constructed?
KA: the project is to sit on montrose beach along the lakefront of lake michigan, a region that is subject to harsh weather conditions. the area is a diverse mix of many kinds of cultures, people getting married, people having barbecues etc. it became very evident that whatever we did would have to be very robust and resilient.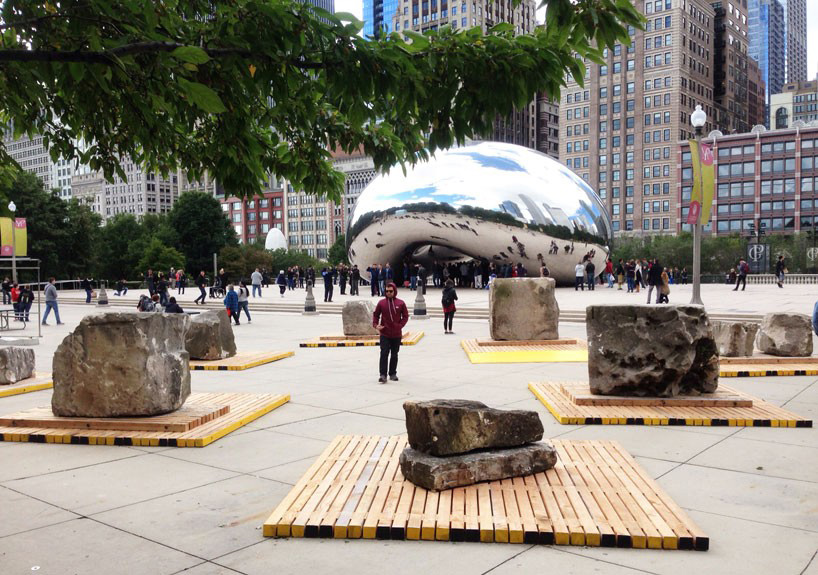 rock – chicago lakefront kiosk, chicago, USA
see more of the project on designboom here
DB: how did you decide upon the kiosk's materiality?
KA: we found a lot of limestone blocks that were brought from indiana in the 1930s to be used as shoreline protection. many of them had been replaced with concrete, and the original stone moved into storage. so the resource was already there. our proposal is a concrete balcony that sits over the edge of the cliff, balanced by the limestone blocks. the suspended roof is held in tension. the delicate, yet robust structure is almost like a public sculpture, it is not really a building. it could be a bar, it could be a place for concerts.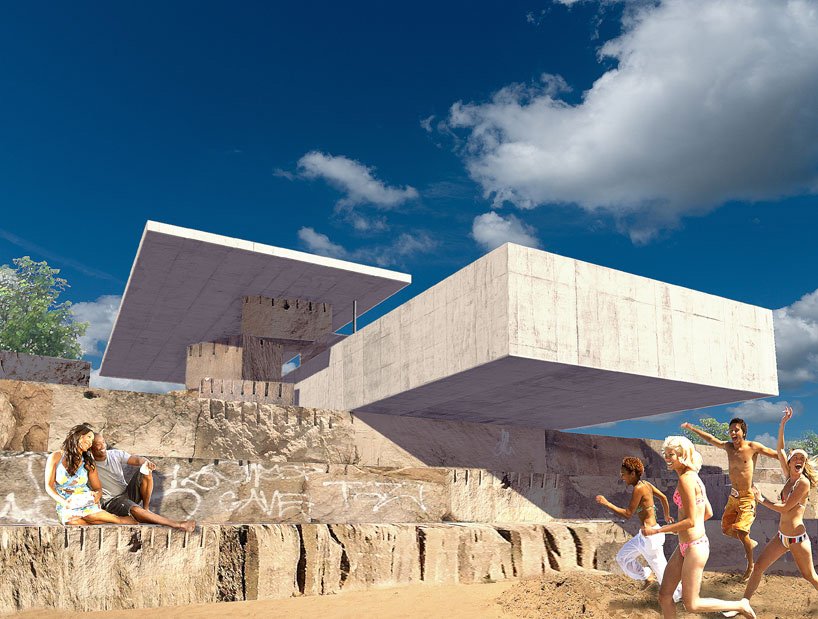 rock – chicago lakefront kiosk, chicago, USA
DB: is there a timescale for the project's completion?
KA: unfortunately, we didn't get the opportunity to have it ready for the biennial. it's going to be built in spring early next year, (2016). we decided to move the limestone rocks from storage and take them on their journey towards montrose beach. so they have been placed on public display in millennium park.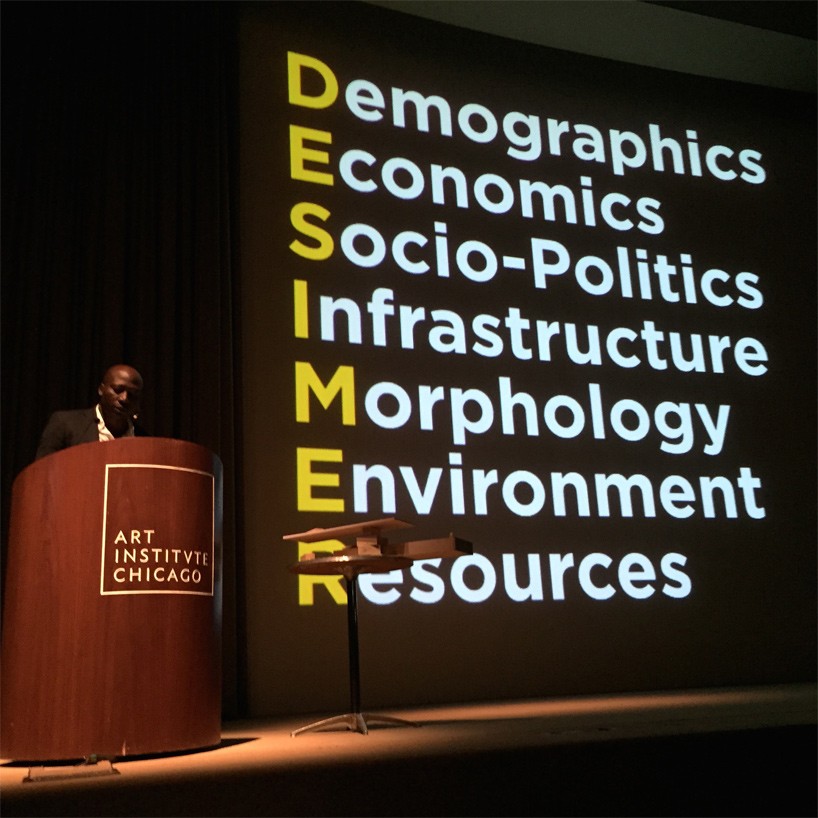 kunlé adeyemi presenting his lecture at as part of SAIC's visiting architecture program
image © designboom
DB: what characteristics do lagos and chicago share, and what can they teach us about building for the future?
KA: we can learn from water-adjacent cities like lagos and chicago, to produce a new condition where we develop sustainable, responsible and dense high-rise buildings that respond the environment. you can have a variety of different areas that create a new type of architecture and urbanism for africa, as well as the rest of the world.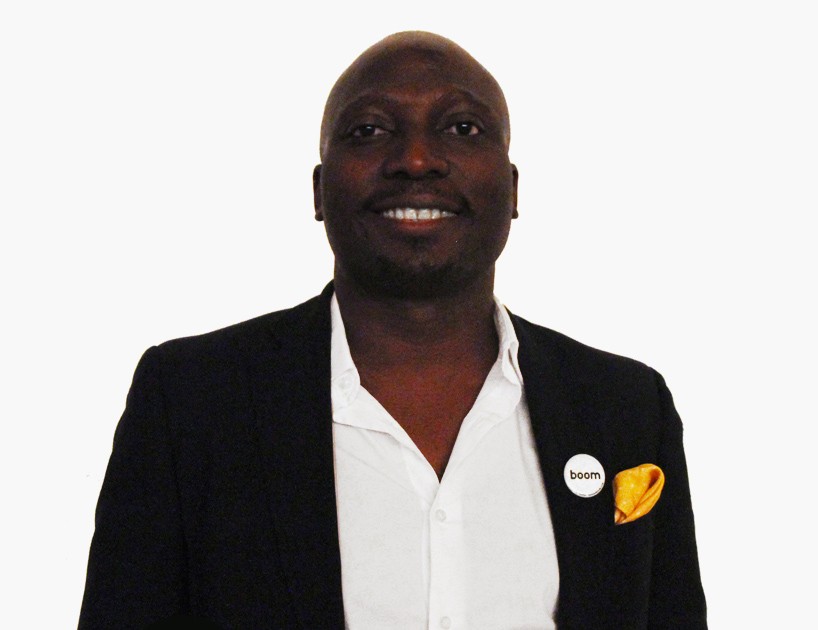 kunlé adeyemi at the chicago architecture biennial
image © designboom
DB: how would you describe your approach to architecture?
KA: I worked with OMA for about nine years, and it was really a very important part of my experience. at some point I realized that I could bring the knowledge I had acquired into other challenging conditions. that was the birth of NLÉ as a practice, I wanted to address the problems that I thought were topical. the learning experience is so quick that I realized that what you learn from such an environment is already relevant to the rest of the world, it is not just about just trying to do work in africa.

the chicago architecture biennial provides a platform for groundbreaking architectural projects and spatial experiments that demonstrate how creativity and innovation can radically transform our lived experience.
the inaugural chicago architecture biennial, north america's largest international survey of contemporary architecture, launched in october 2015. through its constellation of exhibitions, full-scale installations, and program of events, the biennial invites the public to engage with and think about architecture in new and unexpected ways, and to take part in a global discussion about the future of the field.
the chicago architecture biennial is the vision of mayor rahm emanuel for a major international architectural event and an outcome of the comprehensive cultural plan developed by chicago's department of cultural affairs and special events. it is presented through the support of BP, and in partnership with the city of chicago and the graham foundation for advanced studies in the fine arts.